Organic Matcha Tea is a finely milled powder which has been used for centuries as far back as the Tang Dynasty, China (618-907 AD) and is still exceedingly popular in modern society throughout Asia. Matcha Tea is made from shade-grown Green Tea leaves. The rich taste, initially sharp, followed by a prolonged sweetness, is made distinctive by the chlorophyll and amino acid components such as theanine and by the ceremonial preparation unique to Matcha Tea. Organic Matcha can be added to most foods such as cakes and sweets, smoothies & lattes or simply added with hot water to create a traditional Matcha Tea. Matcha Tea is available to buy in Australia through Phyto-Therapy.
SPECIFICATIONS
Chemical
Particle Size
95% through 200 Mesh
Loss on drying
≤ 8.0%
Total Heavy Metals (ppm)
<10
Polyphenols (by UV)
> 10.0%
Microbiological
Total Plate Count
<10,000cfu/g
Yeast & Mould
<300cfu/g
Escherichia. coli
Absent/g
Salmonella spp
Absent/10g
Staphylococcus aureus
Absent/10g
OTHER CHARACTERISTICS

| | |
| --- | --- |
| Taste | Fresh tea leaf note |
| Colour | Bright green |
| Certification | Halal, Kosher, Organic |
| Allergens | Free from GMO, dairy, soy, additives & carriers |
| Safety | Food Grade, suitable for human consumption |
| Shelf Life | 2 years in original sealed bag <25°c (protect from air & light) |
| Packaging | 4 x 5kg foil bags in fibre drum |
TYPICAL DATA (All Figures Based on Independent Analysis)
Labelling
Organic Matcha Powder, (Camellia sinensis)
Nutritional Labelling per 100g
Energy
1270kJ
Protein (on dry basis)
23.6g
Fats
total –
2.3g
saturated –
0.5g
monounsaturated –
0.2g
polyunsaturated –
1.6g
Omega-3 –
1.3g
Omega-6 –
0.4g
trans –
<0.1g
Carbohydrates
available –
28.3g
sugars –
5.1g
Dietary Fibre
38.8g
Sodium
1mg
Calcium
534mg
Iron
16.1mg
Potassium
1,710mg
Magnesium
161mg
Zinc
2.0mg
Polyphenols
10.0g
EMISSIONS PROFILE

| | |
| --- | --- |
| Carbon Emissions | 33.7 kg CO2-e/kg |
Download PDF
*The health claims available for these ingredients are dose related. If you are unsure, please seek regulatory advice to ensure compliance.
Manufacturer:
Organic Certified By: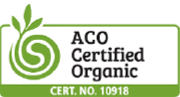 Carbon Certified By: